Wedding photographers love shooting weddings in gorgeous locations. Soaring cathedrals, majestic mountains, pristine beaches, world-class hotels, and historic buildings all make for beautiful images. But ask any experienced wedding photographer and you will discover that many weddings take place in less than ideal locations.
Some locations can be very meaningful for the couple, such as a family home, or their local church, or sometimes the venue is selected for proximity to family and guests rather than how photogenic it is. But the mark of a truly experienced wedding photographer is that they can take a less than ideal location and still create amazing wedding photos.
We asked our ISPWP members to show us some examples of beautiful wedding pictures that were taken in ugly locations and to give us some ideas on how they did it.
---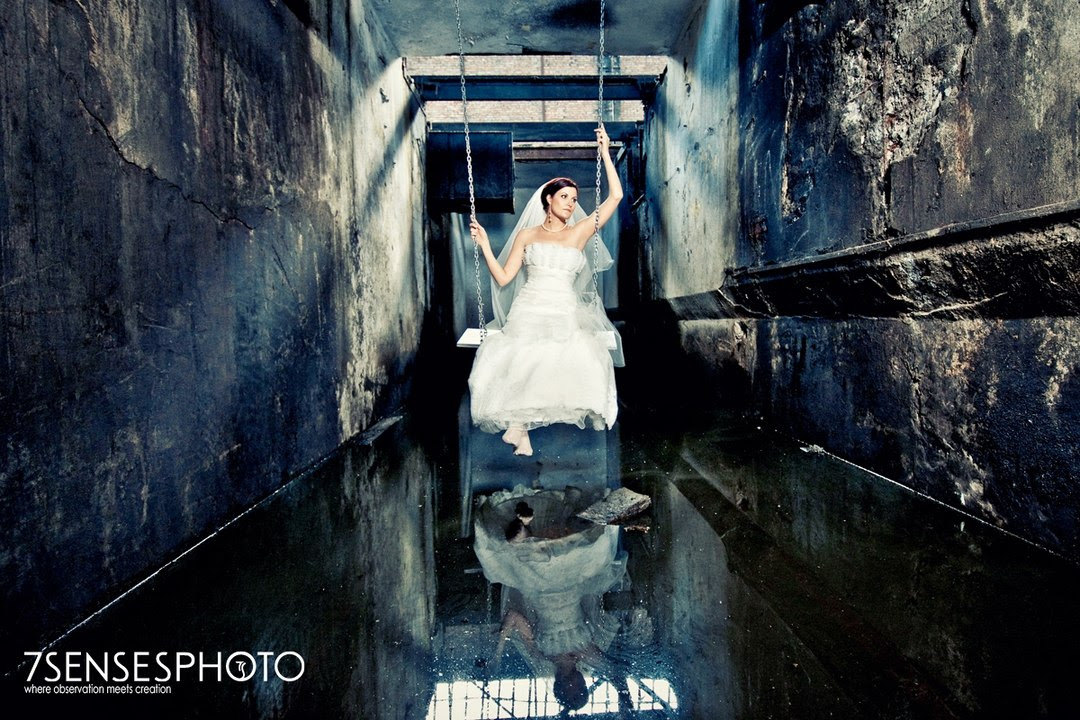 PHOTOGRAPHER: Maciej Adamczewski, 7SENSESPHOTO, http://7sensesphoto.com, Warsaw, Poland
My couple wanted a photoshoot in an unusual location. This photo was taken in 2011 in the Roundhouse Railway Rozwadów near Stalowa Wola (Poland). Taking this picture was demanding. First, we had to figure out the suspension of the swing, made by myself. Then the bride had to put on wellington boots and be carried out to the swing. Dirt around us, water with grease under our feet. But it was worth it. This shot is unique. That roundhouse was demolished in 2014.
---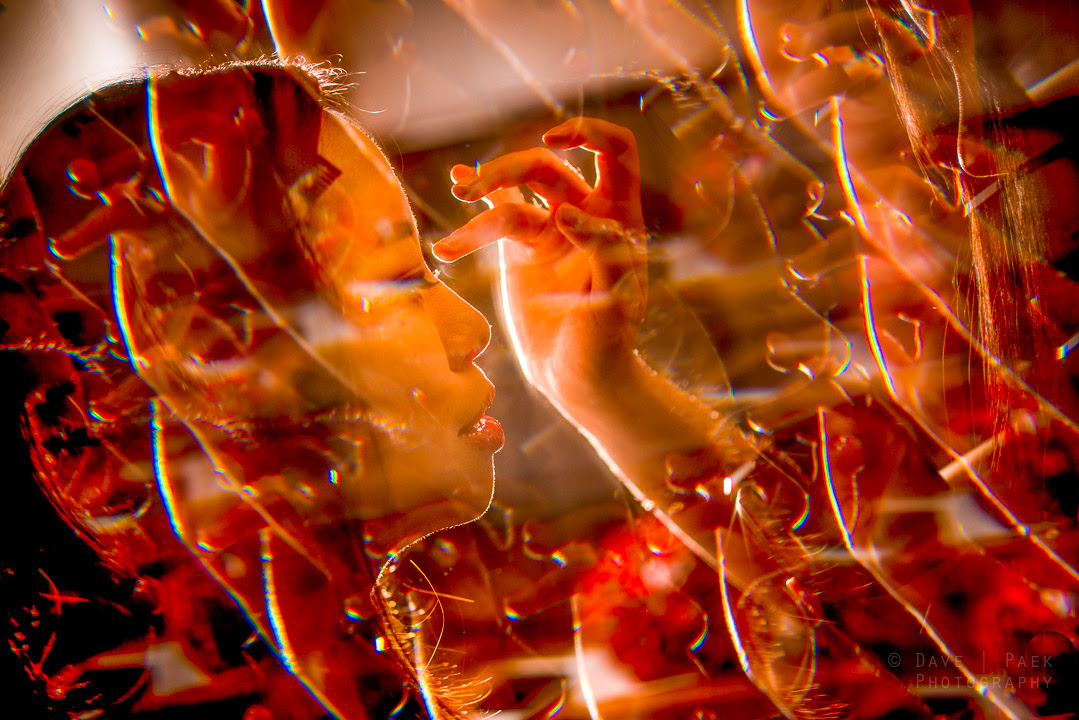 PHOTOGRAPHER: Dave Paek, davepaekphotography, http://www.davepaekphotography.com, New York City, USA
I've worked in some challenging places to shoot a bride getting ready, but a windowless office cubicle illuminated by fluorescent lamps probably takes the wedding cake. Of course, I documented the bride in her environment in all its institutionalized glory with a few obligatory photojournalist type shots. But I also wanted to leave my client with an image that transcended her moment on a Herman Miller chair surrounded by padded partitions: I wanted to capture her in a way that conveyed how she felt. Using an 85mm to get close with an off-camera flash and the help of a few prisms I managed to capture this image.
---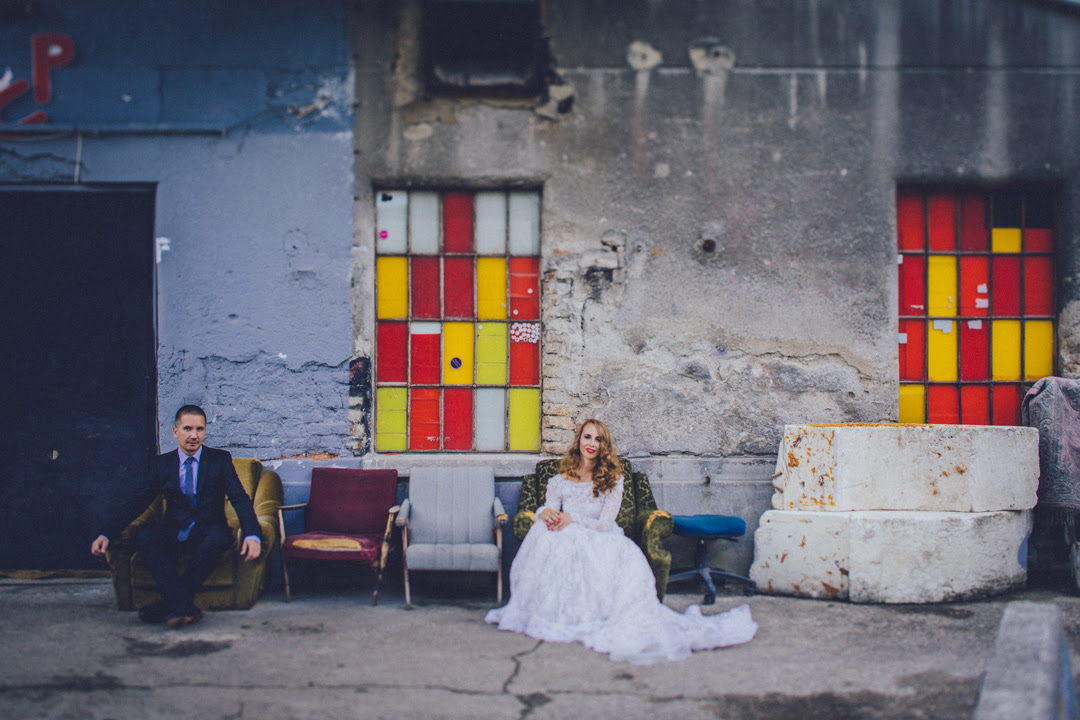 PHOTOGRAPHER: Matija Kljunak, Matija Kljunak Weddings, http://www.matijakljunakweddings.com, Dubrovnik, Croatia
There are many reasons why newlyweds end up on sessions in ugly locations. Sometimes, photographers (or the couple) like the juxtaposition of the young and beautiful (the couple) and old and faded (the location). Alternatively, sometimes it's simply a matter of proximity and available time. This shot has a bit of both. It's an ancient factory, probably a 50-year-old ruin at this point, which didn't look very promising until we started working through it. But when I saw those colorful windows and the mismatched sofas, I simply had to ask my couple to sit down for a quick shot. What I love about it the most is how it all looks logical on the first glance, until you start taking it apart, yet has this retro charm and a punch of color where you really least expect it.
---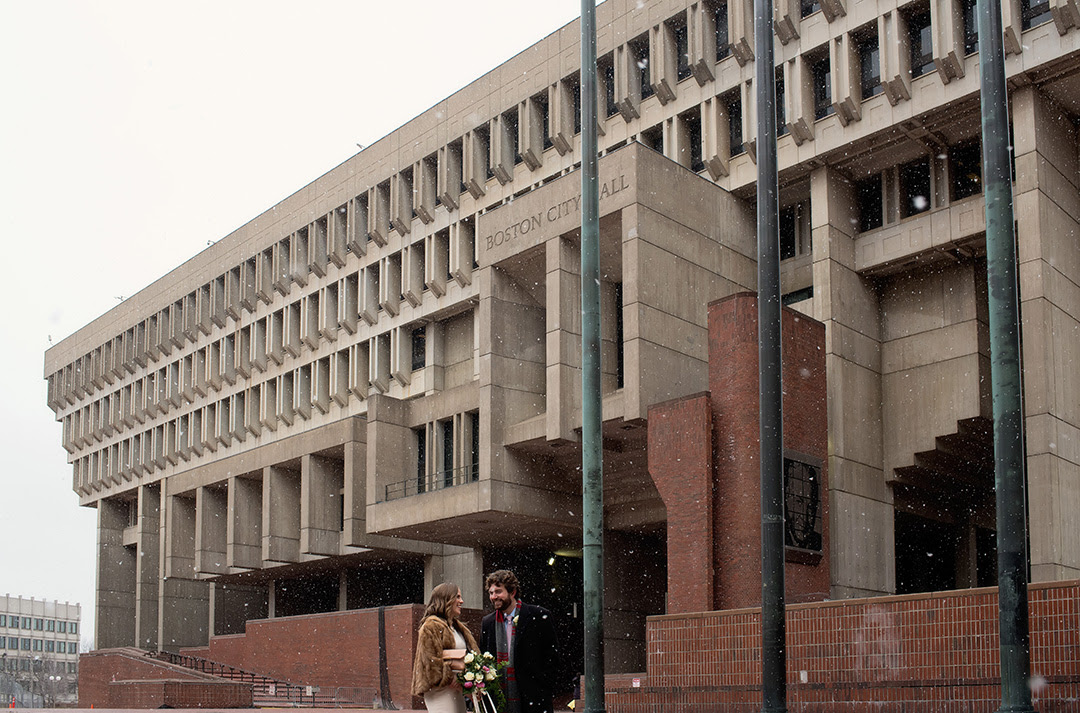 PHOTOGRAPHER: Kate McElwee, Kate McElwee Photography, http://katemcelweephotography.com, Boston, Massachusetts
Anna and Mike eloped at Boston City Hall during the winter of 2016, and in her words, "We really love the idea of marrying in the ugliest building in town. Winter can be really crummy around here, so we thought our marriage would be a fun thing to brighten things up a bit - this year and anniversaries to come." This photo was taken moments after their first look right outside City Hall, which is indeed the ugliest building in all of Boston. The weather was also pretty tough that day - very cold, with snow flurries - and the light was flat. However I loved the challenge of making great photos despite the location and lighting, and I let the natural brightness of Mike and Anna and their emotions lead the photos. This ended up being one of my favorites from their wedding; I like the contrast between the location, their light and joyful mood, and the softness of the falling snow.
---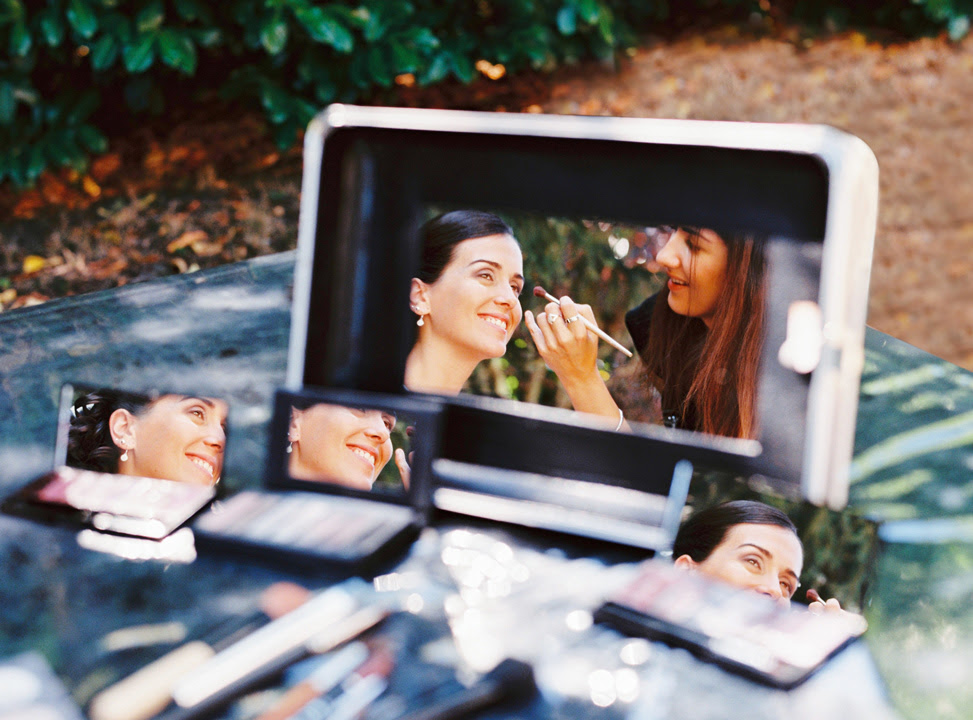 PHOTOGRAPHER: Ossama Cadoret, OssaPhoto, http://www.OssaPhoto.com, Bordeaux, France
During the getting ready, the house of the bride was very dark and not very nice. I told the bride to go outside in the garden. The garden was a big mess! I decided to install some mirrors on the table and not to show the garden. The mirrors were very dirty too! I went to the kitchen and washed all the mirrors for 10 minutes! (A photographer has to be a cleaner too to make anything shine.) I played with the reflections and tried to be creative. The image shows that we are outside, with a good light, and that the bride is awesome! In reality, if you look at the bride getting ready in the garden, it was not nice at all if you were to back up and see the whole scene. I am very happy with this picture because it shows that in every situation, we can do something amazing with creativity!
---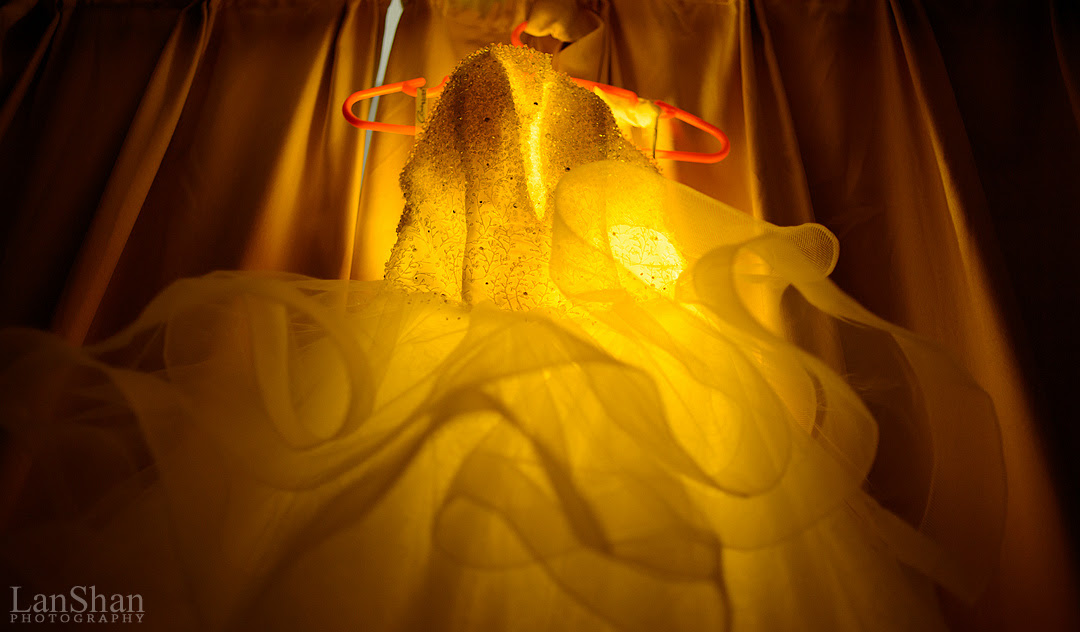 PHOTOGRAPHER: Ping LU Lanshan, LANSHANVISION, http://lanshanvision.com, Hangzhou, China
This wedding day was rainy, with very dark light, and the wedding dress was in a room in a very old and small hotel. The lighting in the room was terrible, so I turned off all the lights, closed the curtains and put some yellow LED lights into the white wedding dress to get a unique photo of the wedding dress.
---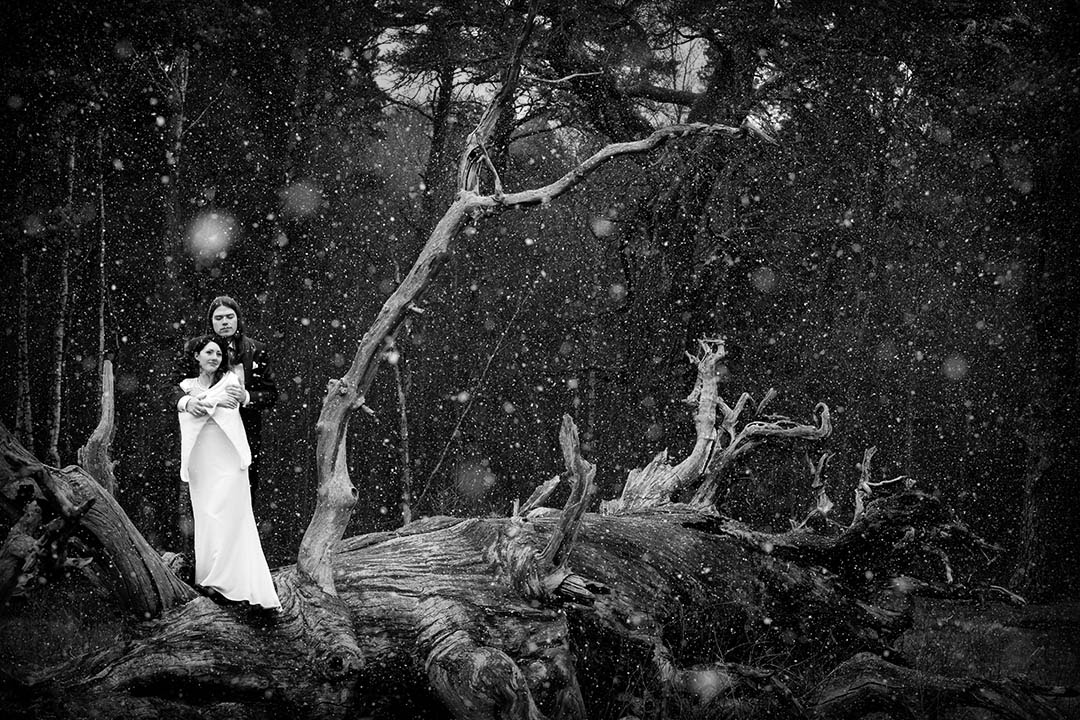 PHOTOGRAPHER: Judith Thomandl, Judith Thomandl Fotografie, http://www.thomandl.de, Pfaffenhofen, Germany
Manuela and Patrick wanted to have snowy portraits because their wedding date was in January. We planned to drive into the mountains for their after wedding session, but when the day came nearer it was clear that there was no snow at all in the mountains. So I suggested a place near my home town, where we found this ugly big trunk of an oak tree. As they climbed up and found a spot to stand on, something magical happened: it started to snow big and dense snow flakes. I think it was a perfect moment since Manuela reminds me a lot of Snow White!
---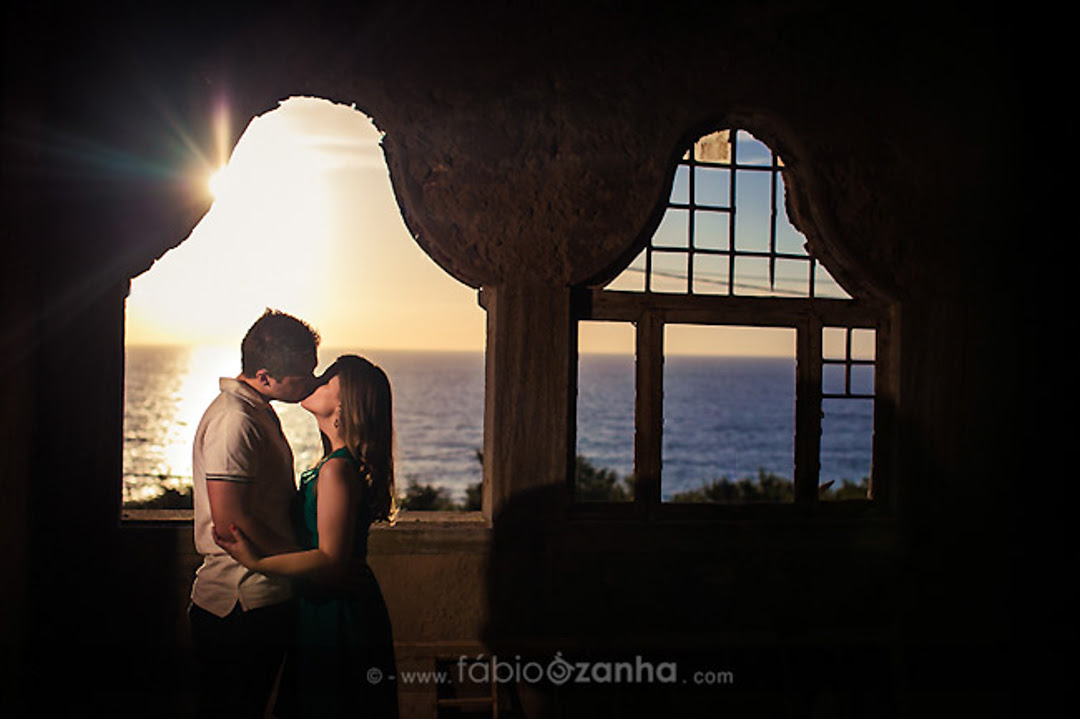 PHOTOGRAPHER: Fábio Azanha, Fabio Azanha Photography, http://fabioazanha.com, Lisbon, Portugal
A skilled photographer can make the most of any visually challenging background. With a little creativity, good disposition of the couple, and the attitude of patient searching for the best light, angle, and expression, a great image is always guaranteed. The above image was taken at ruins of an abandoned mansion situated on a hill overlooking the ocean. Not only was it freakishly dangerous to step inside, the ruinous state was quite depressing to look at. However, the couple really liked the house´s elegant yet decadent look and asked us to make the most of it. By applying a simple classical composition technique, eliminating as much information as possible, we came out with a series of eye-catching images, that with the sea on the horizon had a very romantic final effect. So the key for us was: a good composition, a perfect light, the couple´s willingness to follow our instruction, and an appropriate post-production editing to enhance the final visual effect.
---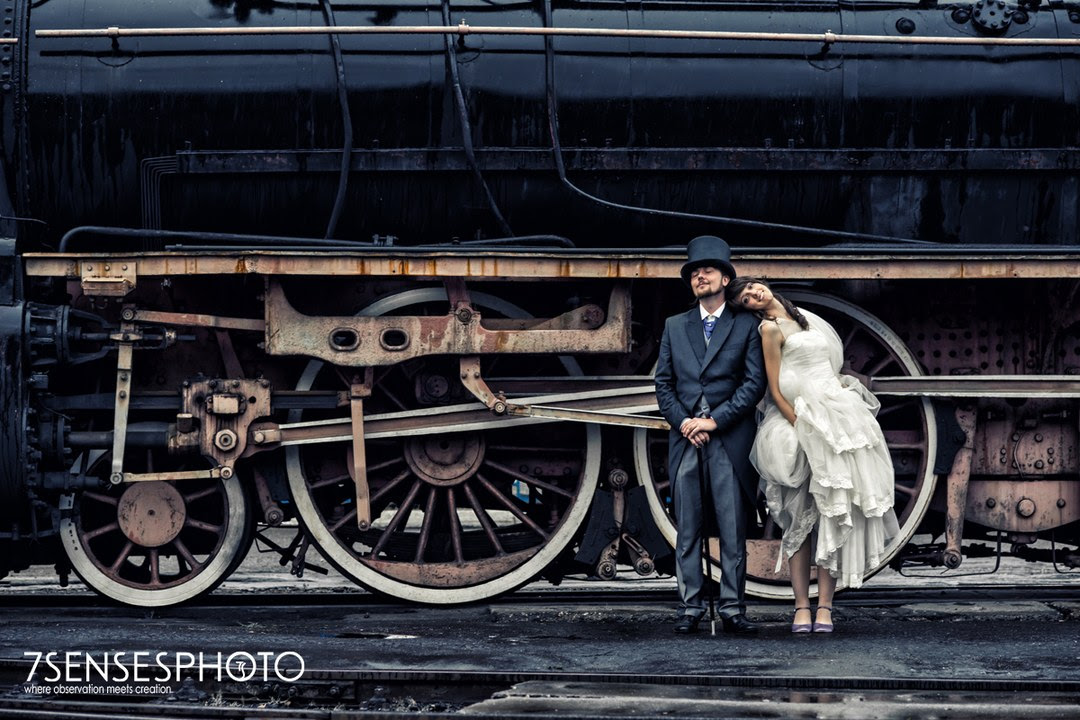 PHOTOGRAPHER: Jolanta Suszko-Adamczewska, 7SENSESPHOTO, http://7sensesphoto.com, Warsaw, Poland
Marcin (the Groom) has been interested in locomotives and old trains so he proposed this location. Both of them like movies, especially Tim Burton's. I always try to incorporate my clients' personalities and their extraordinary hobbies wherever I can. Places like this are perfect to create the unusual, stylish, themed sessions. This photo was taken in 2014 in the Roundhouse Railway in Wolsztyn (Poland).
---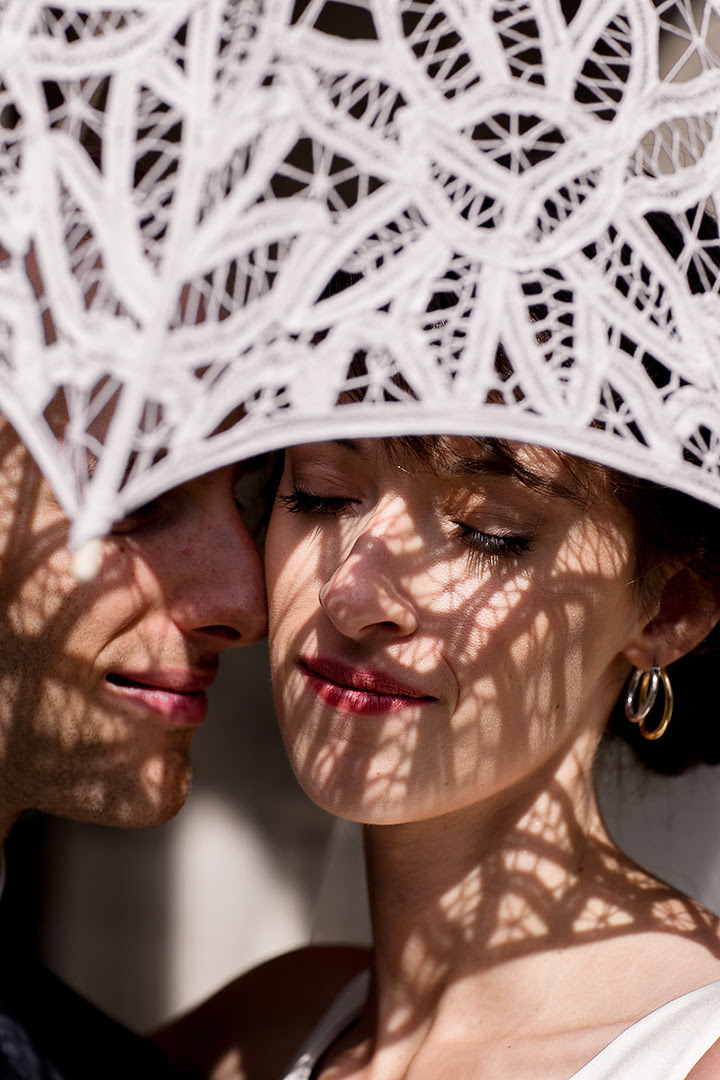 PHOTOGRAPHER: Philip Stephenson, Stephenson Imagery, http://www.stephensonimagery.com, Paris, France
When I am faced with an ugly location, I find taking close-ups against a simple background effective. A place where you can control the light is best (in this photo they are under an arch). Props can also come in handy too. But most importantly, allowing enough time is important to find the best location possible, but if you are stuck in an ugly location focus in tight on your subject, or try to reduce the impact of the surroundings.