The judges for the ISPWP Spring 2019 Wedding Photography Contest sent in their personal favorites of all of the winners. Here are the "Judges' Choice" selections along with their comments. Congratulations to those who were selected!
Christelle studied Broadcasting Media and graduated with an Honours degree, the start of 2006 saw Christelle's interest in photography taking a new turn through her involvement in Film, TV and Video production. She made the transition to full time professional wedding photography in 2011 and has never looked back since.
Her work speaks for itself with many international accolades, awards and publications. She is widely respected as one of the best wedding photographers in the world and is currently the only African to have ranked in the Top 10 International Wedding Photographers by the International Society of Professional Wedding Photographers (ISPWP).

Penny McCoy | Penny Photographics | Minneapolis, Minnesota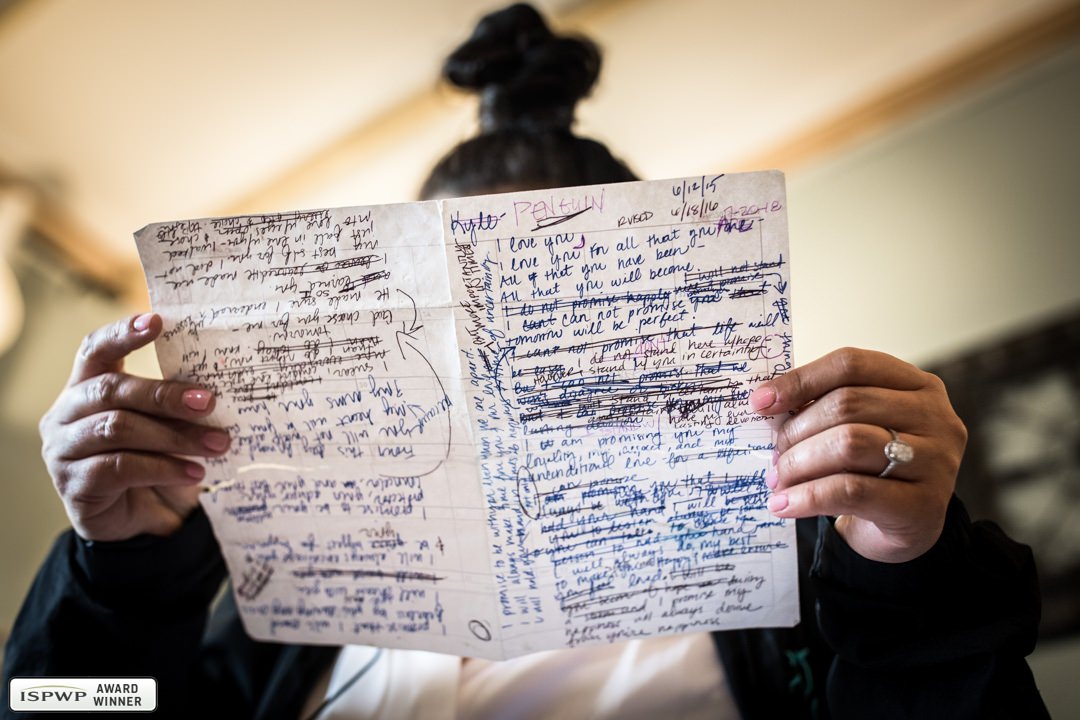 I love this image because of the intrigue and mystery. The bun, the pink nails, the dates on the speech that stretches over years, the word 'penguin'… it all makes me want to know more about who this person is and what their story is. I also love that the speech is so all over the place with added on notes, different colour pens used, and parts scratched out. It really gives a sense of the personality of this person and that this speech was worked and thought about meticulously over a long period of time.

Daniele Vertelli | Daniele Vertelli Photographer | Florence, Italy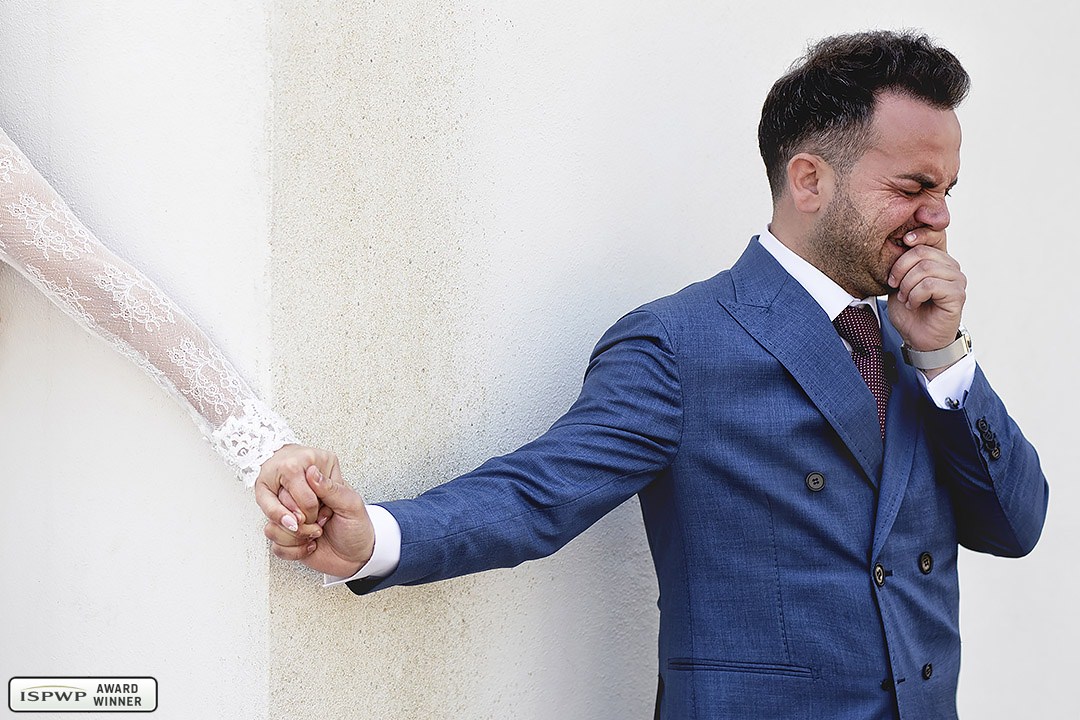 Aesthetically, this image is beautiful with the contrasting colours, fabric and walls. But of course, what makes this image stood out is the raw emotion on the groom's face, the pressure in the hand 'hug', his hand covering his mouth and the tear rolling down the cheek. Lastly, cropping the bride makes this image more intriguing without having to show the whole scene.

Johnny Shryock | Bee Two Sweet | Arlington VA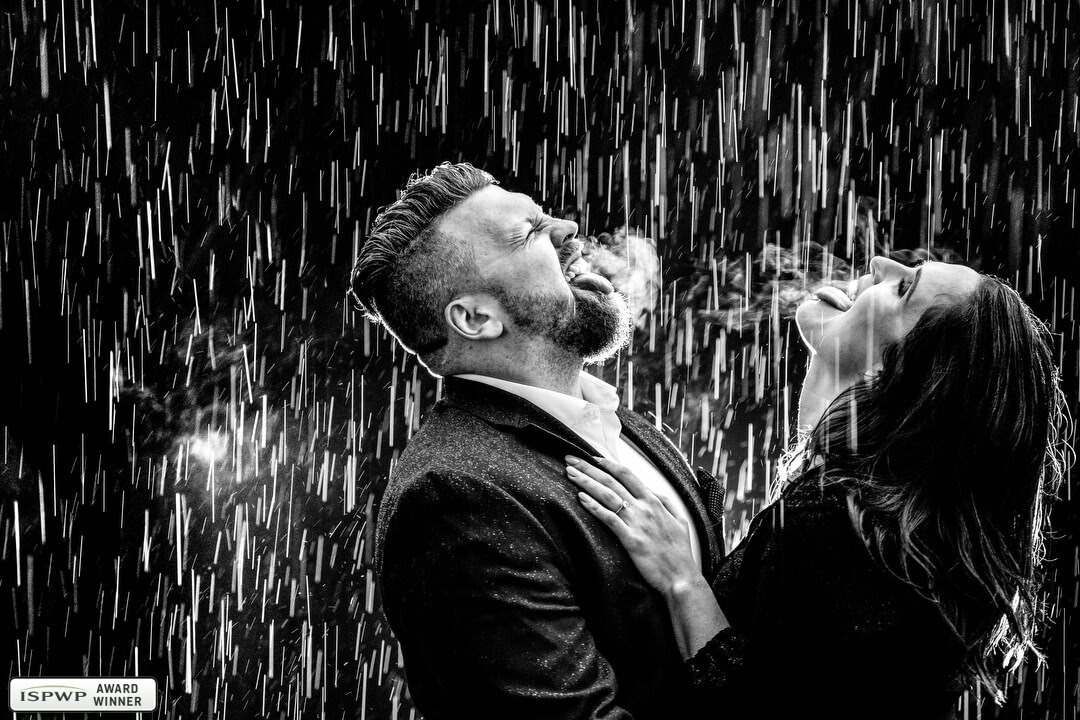 This image stood out because of the aesthetics and emotion. The black and white edit works perfectly to highlight the raindrops, the breath and the couple. The pose/spontaneous emotion works beautifully in that it tells the viewer so much about this couple – playful, fun and embracing the rain.

Zoltan Jambor | Jambor Photography | Cluj-Napoca, Romania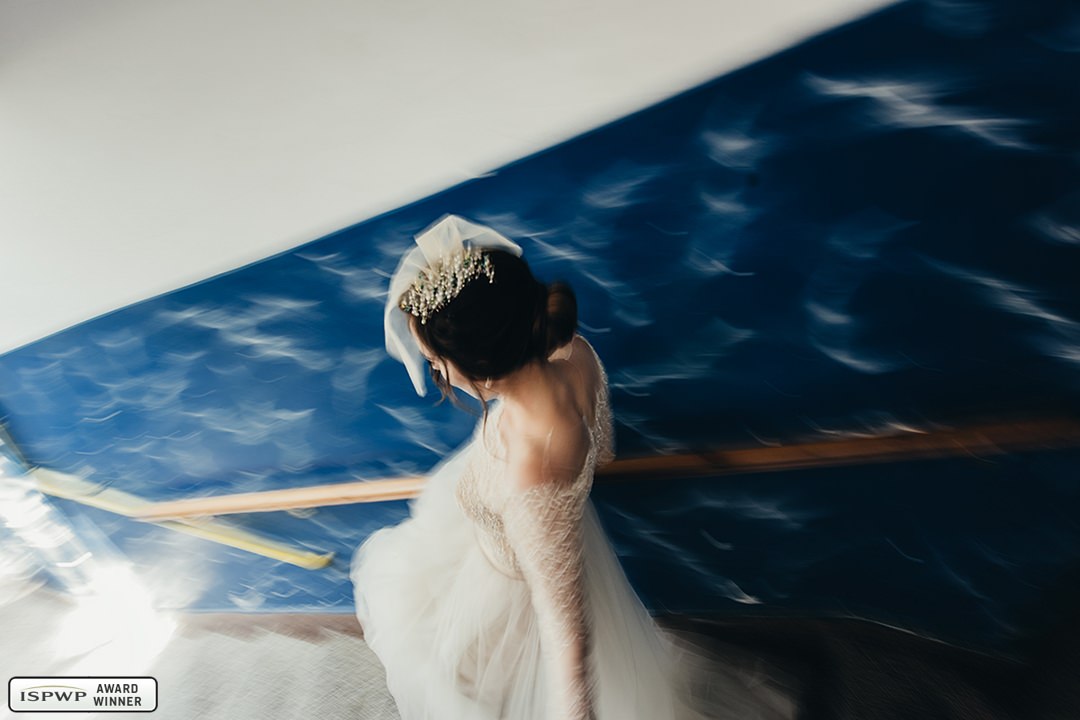 I love this image for so many reasons but mainly because it takes the ordinary to extraordinary. The colour contrast, the leading lines and the sense of movement all works together towards a beautiful aesthetic as well as a sense of expectation.

Slava Semenov | Slava Semenov | Milan, Italy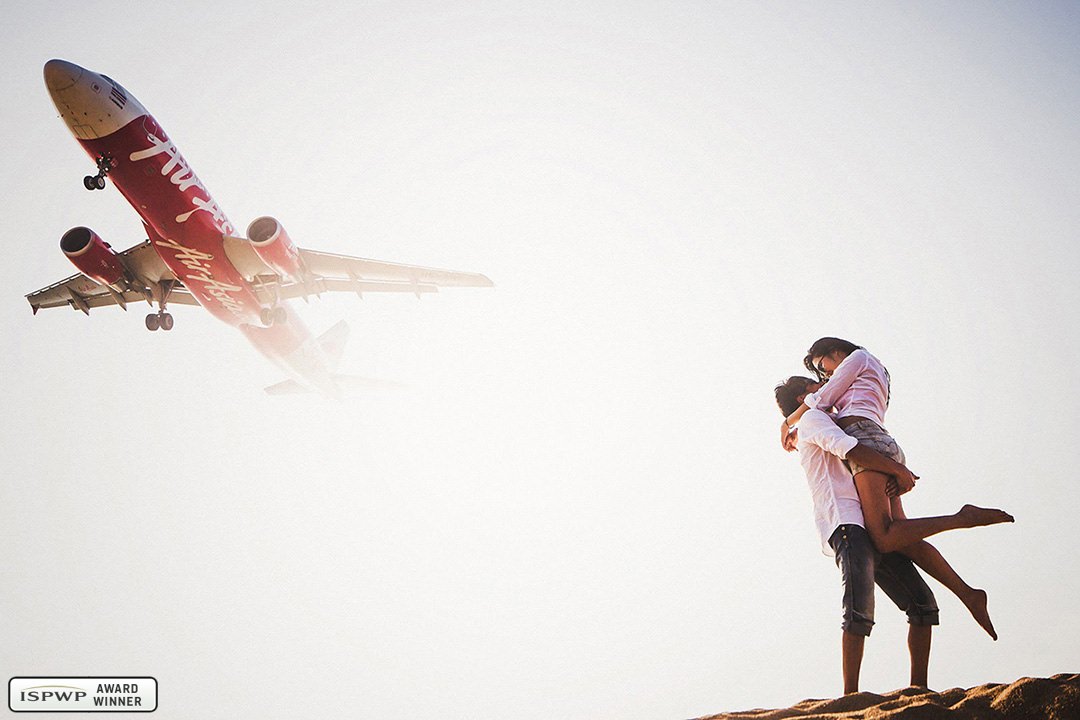 The main thing I love about this image is the playing on the saying 'we have lift off' with both the couple and the plain. The pose and the sliver of sand tells you more about the couple's personality, while the composition is mind-blowingly spot on.

Ciprian Biclineru | Ciprian Biclineru | Frankfurt, Germany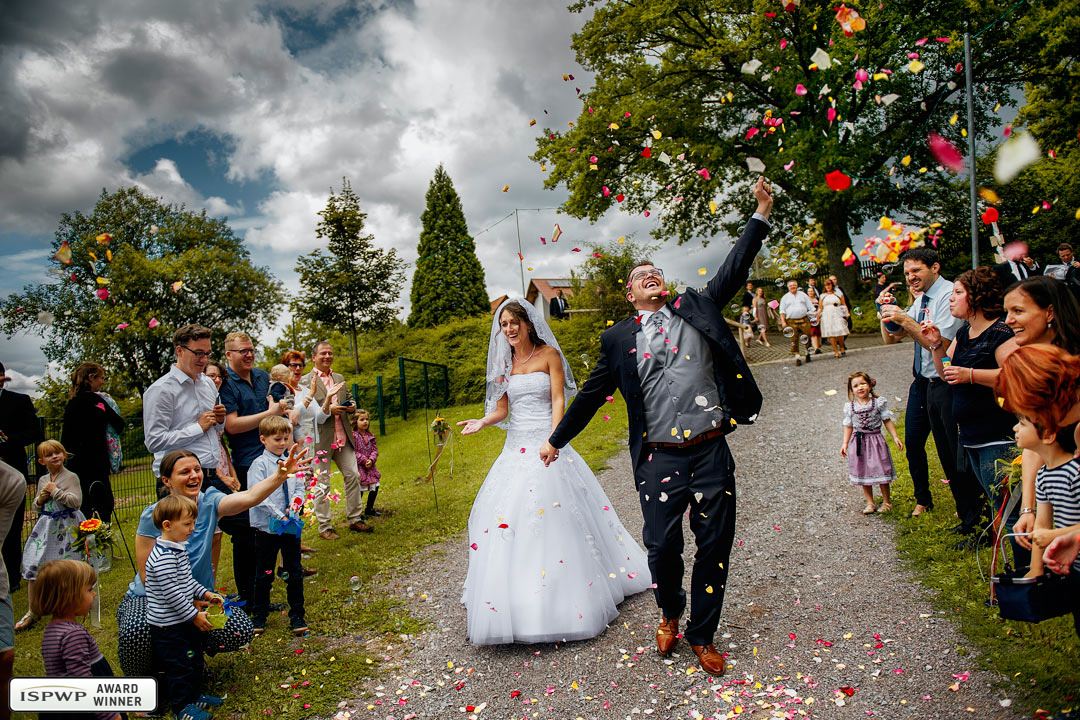 This image is rich in colors, textures and emotions. To me this is the perfect, joyful wedding image. The photographer has done a wonderful job capturing a genuine moment of pure bliss in an impeccably composed frame, which is not easy when there's so much going on. My eye kept traveling all over with ease and the more I looked the bigger I smiled.

Rino Cordella | Rino Cordella Photographer | Puglia, Italy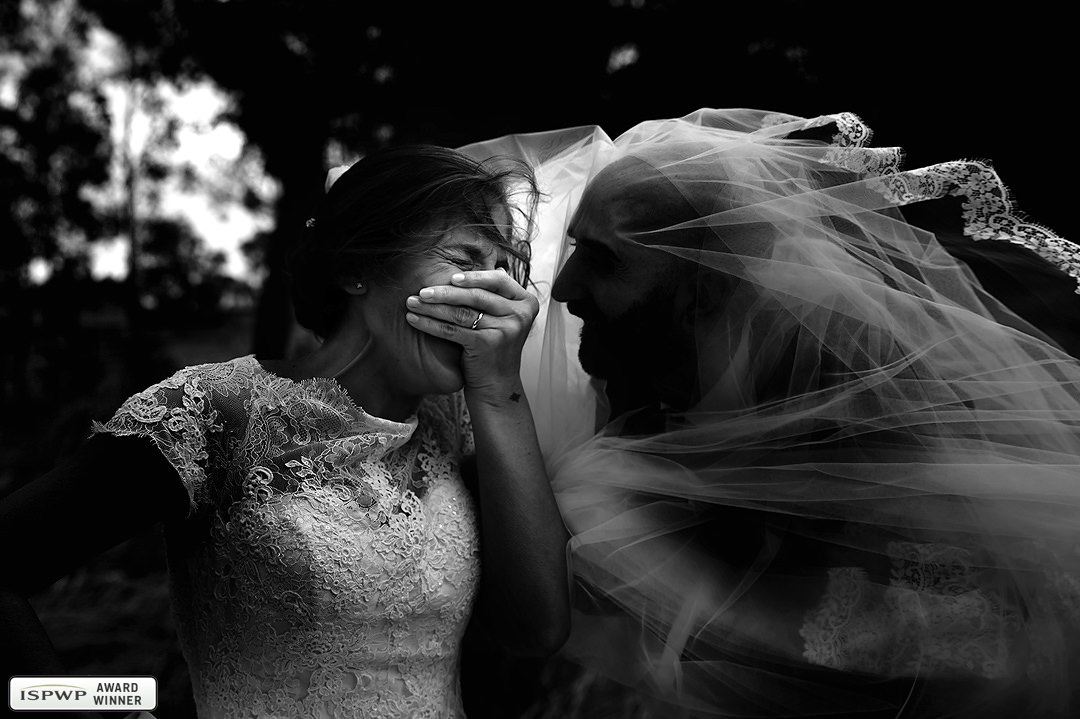 The juxtaposition of the groom's silhouetted face with that of the bride's well lit , full of expression and detail, is just wonderful. It's technically challenging, which makes it so appealing. Humor and emotion are hand in hand. Lights and darks working in perfect balance to emphasize a beautiful moment. Such a well executed, lovely frame.

Sara Kirkham | Pixies in the Cellar | Manchester UK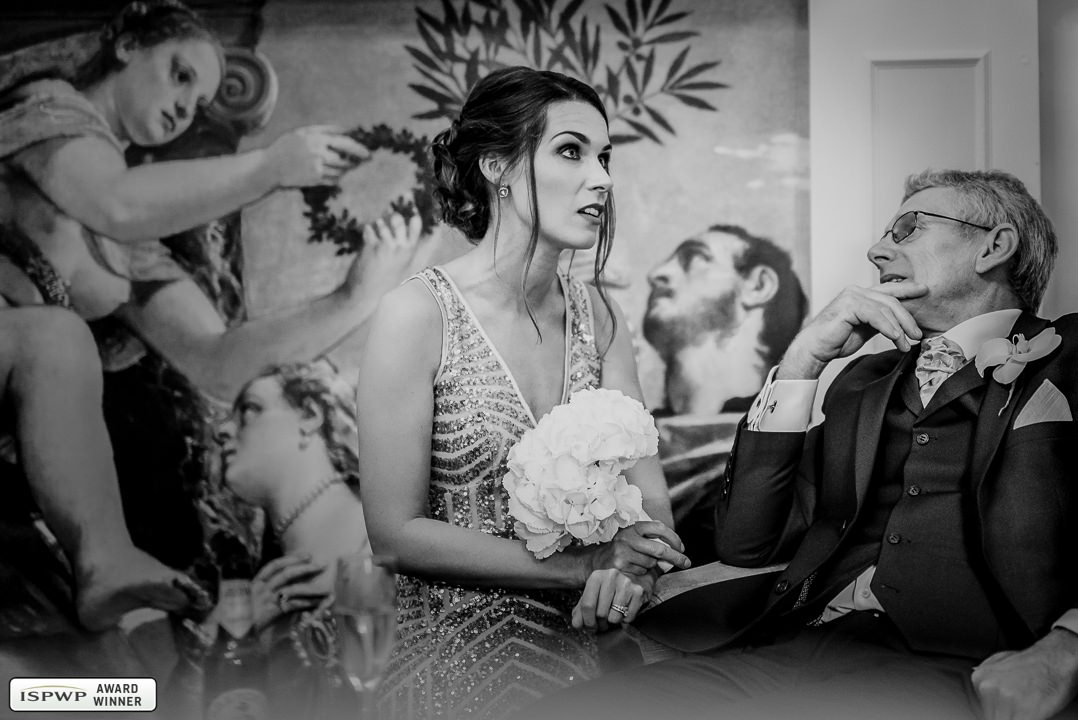 It takes patience, intuition, imagination, sense of humor, skill and tiny bit of luck to get an image like this. The two planes working together as one, creating depth and mixing realities. The parallel of hand gestures and turned heads are a part of this playful composition, which revolves around the bride's animated expression. There's a subtle symbolism too which is so nice.

Richard Howman | Rich Howman Photography | London, United Kingdom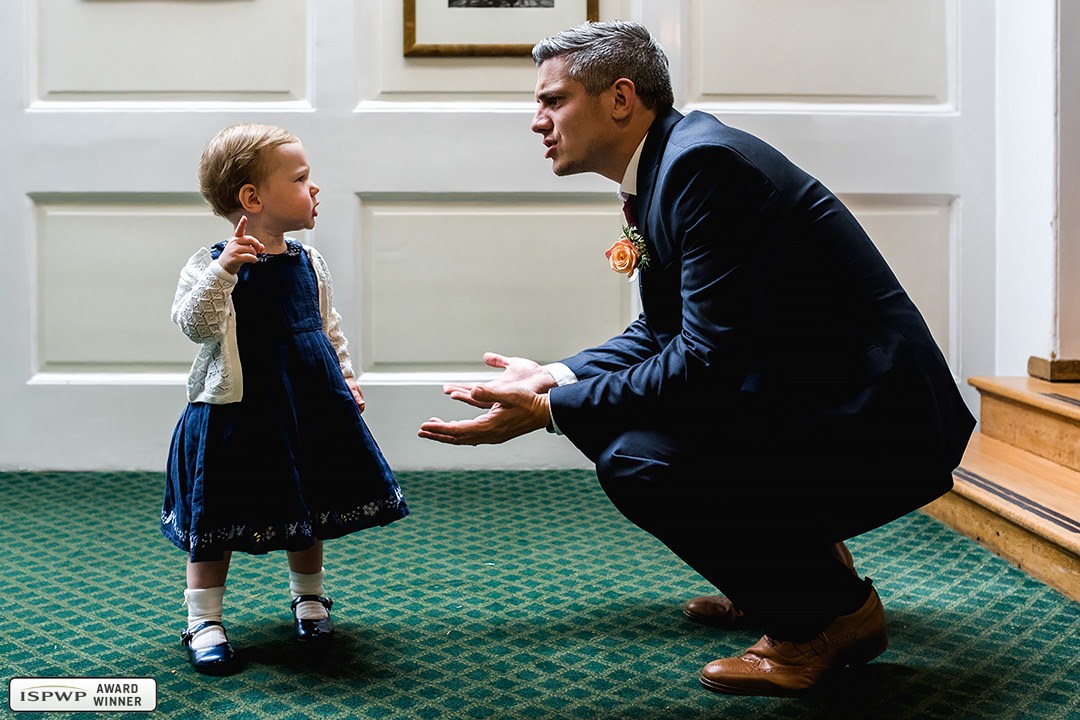 It's hard to capture so much expression in a single profile, let alone two. Their faces and gestures are perfectly accentuated by the framing, lighting and the overall simplicity of this image. The little girl's stance shows who's in charge, the roles are reversed, and this perfectly captured moment is nothing short of hilarious.

Serhiy Mazur | Sergio Mazurini | Vienna, Austria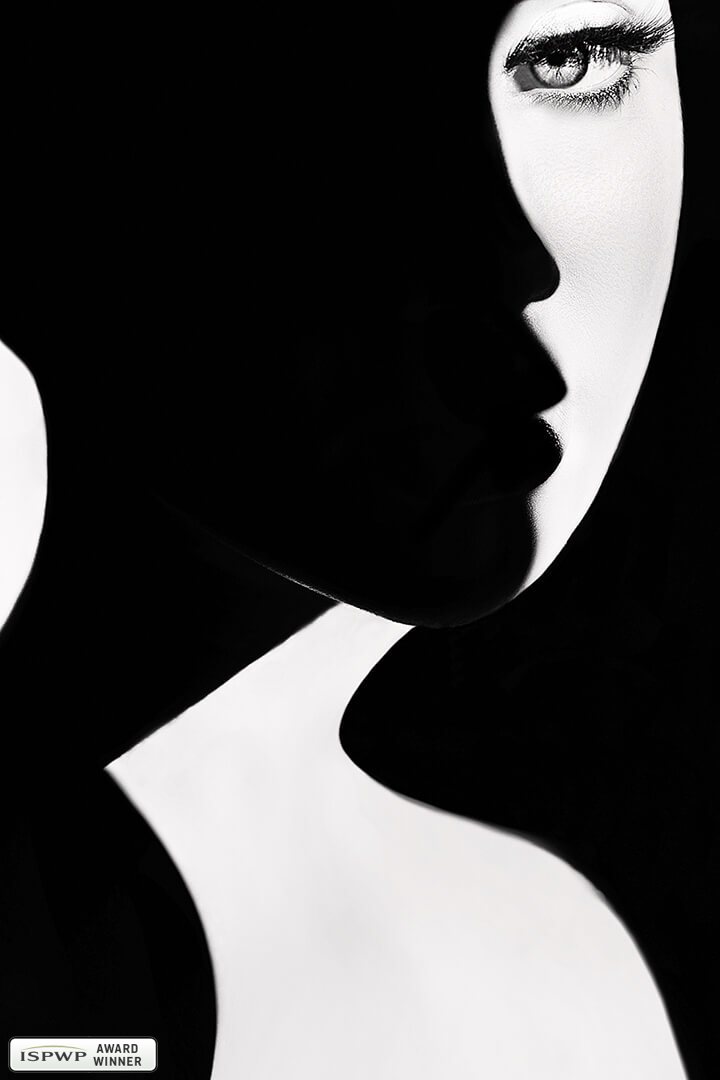 This image stood out for me because of it's abstract nature. Despite that though it has a sort of a melancholy feel. You are wondering where the real face stops and the shadow one begins, so it's playful and intriguing in that sense. I love how simple yet complicated it is.
A former press photographer, my love for photography runs deep — a professional for over 25 years and a wedding photographer for the 12 years. I'm an unobtrusive, documentary, wedding day storyteller capturing the life and emotion of your wedding day — winner of over 30 international awards from WPJA, Fearless, and ISPWP. I serve San Antonio, Houston, Austin, and weddings throughout the USA.

Serhiy Mazur | Sergio Mazurini | Vienna, Austria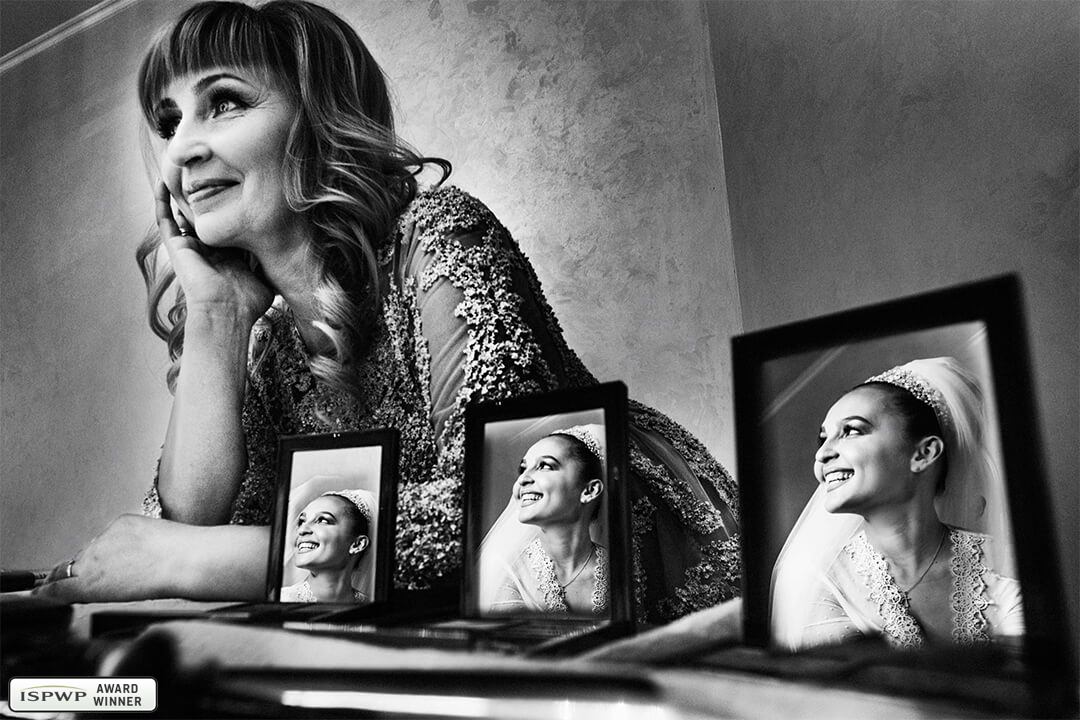 Love the echoing shapes and the story within the framing. I'm going to make an assumption that this is the bride's mother. A marvelous image.

Sergey Lapkovsky | Sergey Lapkovsky Photography | New York City, New York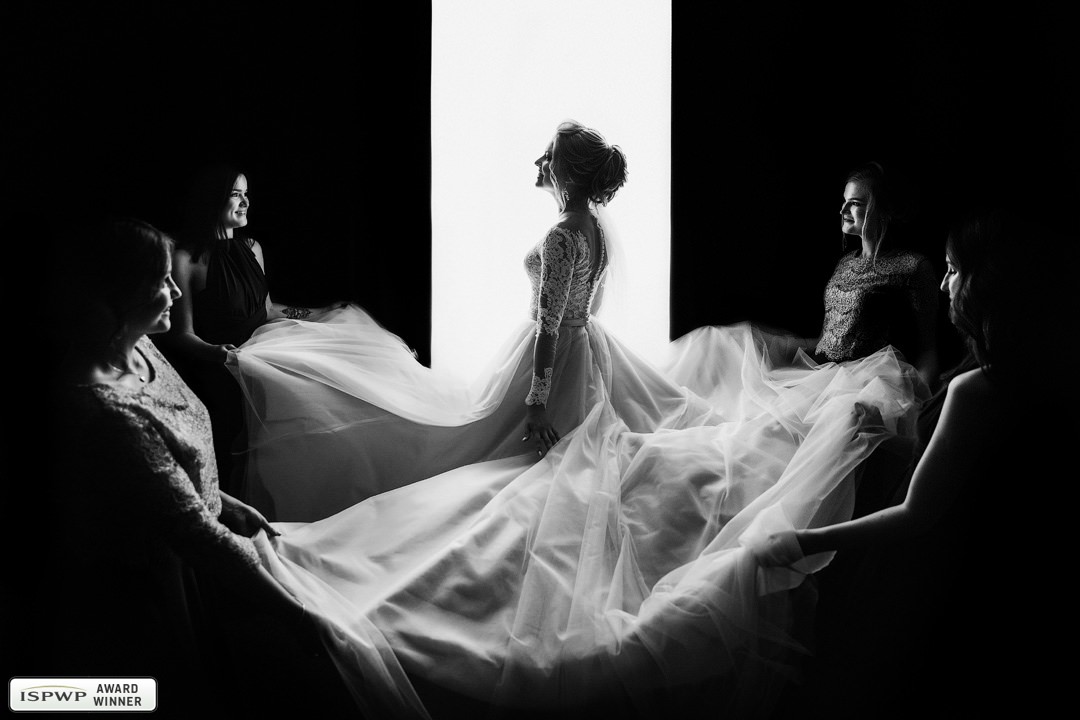 This images by Sergey Lapkovsjy is simply gorgeous and well executed. Pretty much perfect with the contrast and lighting,. We have converging lines and a clear side on view of the bride.

Pasquale Minniti | Photo-4u | Rome, Italy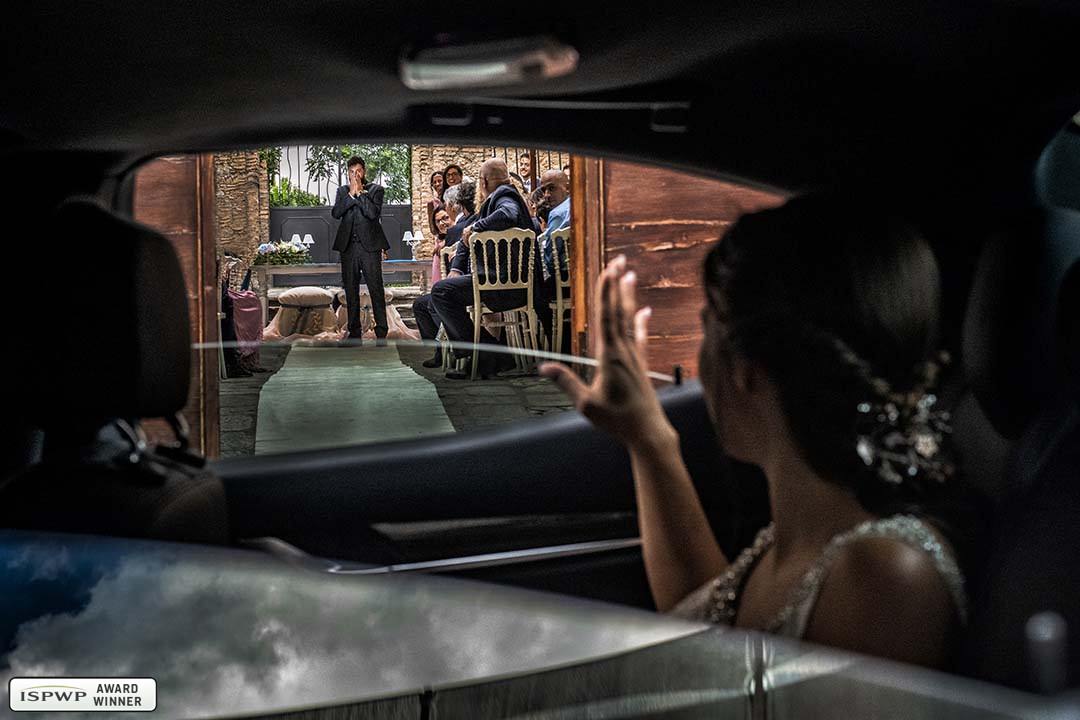 Love the emotion in this image by Pasquale Minniti. Well deserved 1st place in my opinion. We have enough figure to ground relationship with the groom to clearly see he stands out from the background which really helps tell the story.

Melissa Ouwehand | Selijn Fotografie | Ede, Netherlands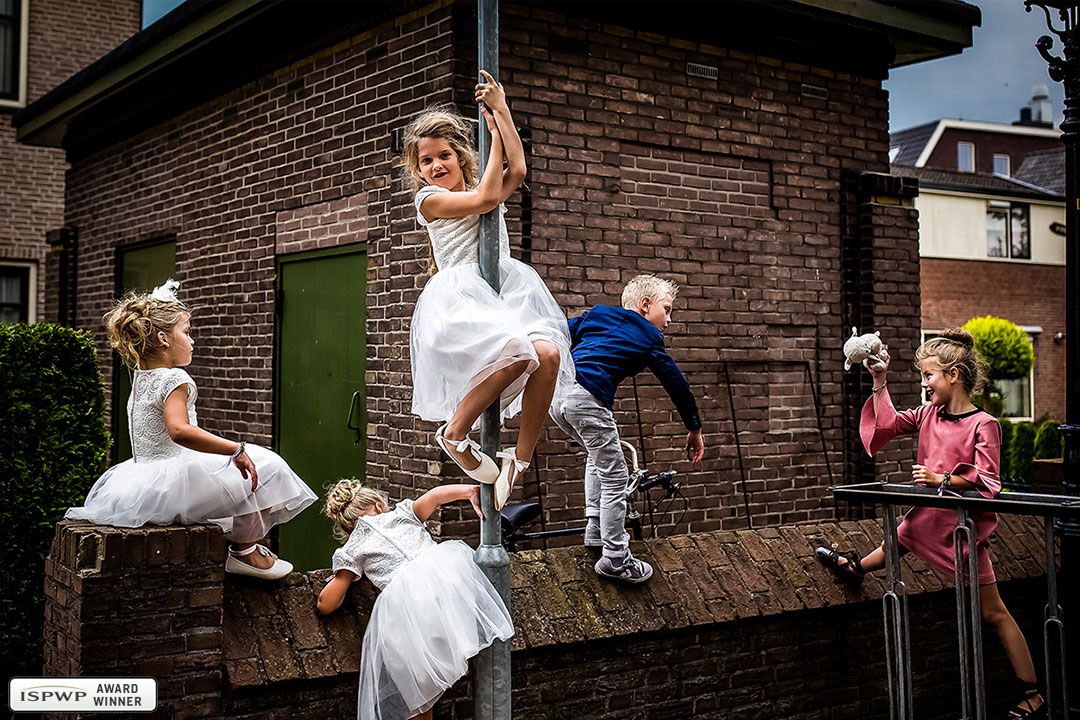 I love geometry in shapes - think Henri Cartier-Bresson for starters. He was the master. Melissa Ouwehand managed to capture and react to these lovely children doing what kids do. I love how the eye moves around the image starting with the flower girls and the brightest part of the image and move clockwise to the boy and girl on the right, A unique image and one for the couple to treasure for years.

Emin Kuliyev | Emin Wedding Photography | New York City, New York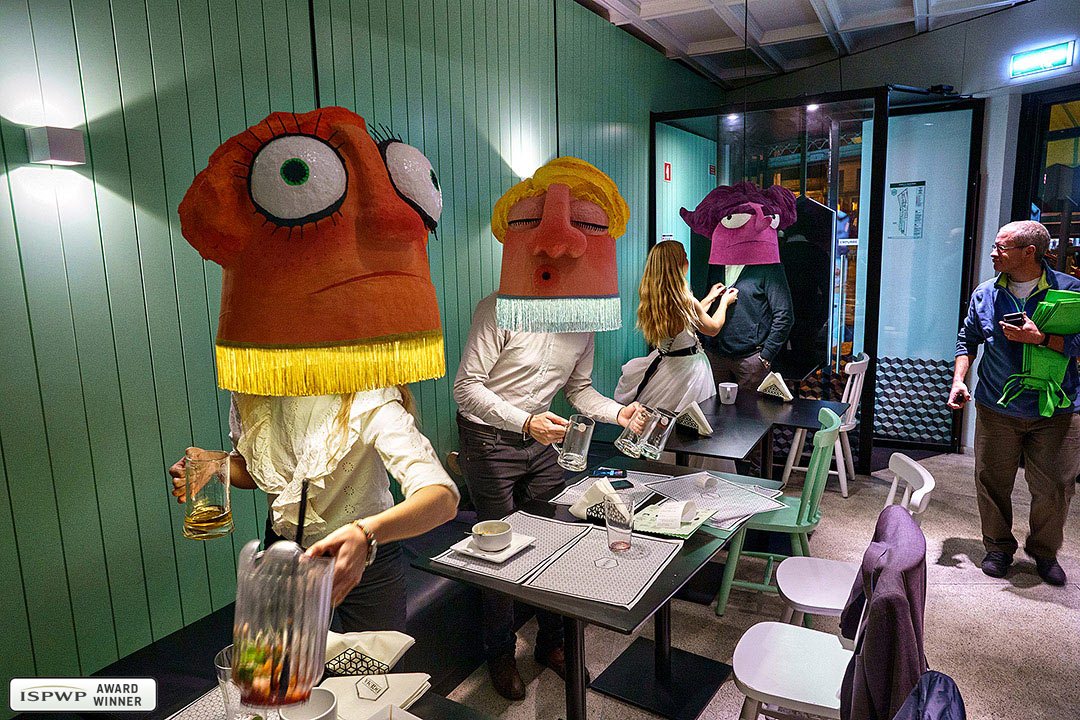 The humor here is spot on from an intelligent perspective. The photographer anticipated and framed the shot. Great job, Emin Kuilyev.
JUDGES - Nacho Mora and Vinny Labella, LOOK FOTOGRAFIA, Los Angeles, California
Vinny Labella & Nacho Mora have been shooting weddings for 10 years as a husband and wife team under their widely recognized studio Look Fotografía in Spain and now in Los Angeles. Their award-winning approach to capture the essence of a wedding in a creative and artistic way has been recognized internationally. As true artists, they are drawn to compelling angles, gorgeous lighting, and authentic moments for their clients.

Lei Liu | Xiaolei Wedding Photography Studio | Shenyang , China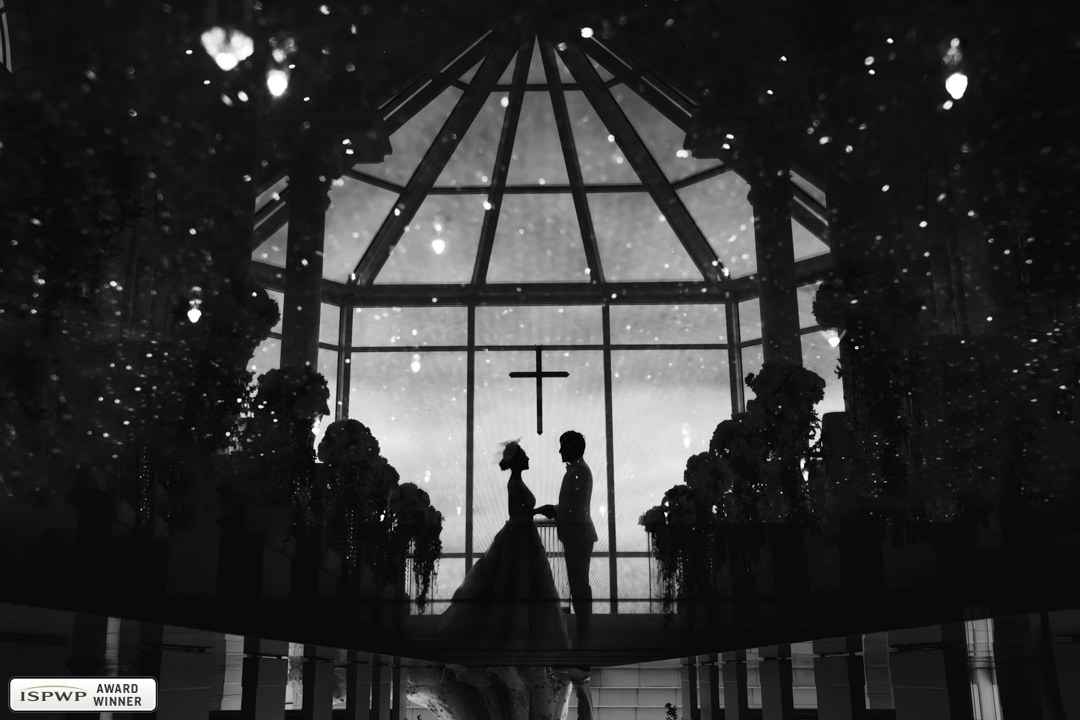 We love silhouettes + real moment in ceremony + simmetry and of course the power of black and white

David Hofman Dos Santos Freires Varela | David Hofman | Brasilia, Brazil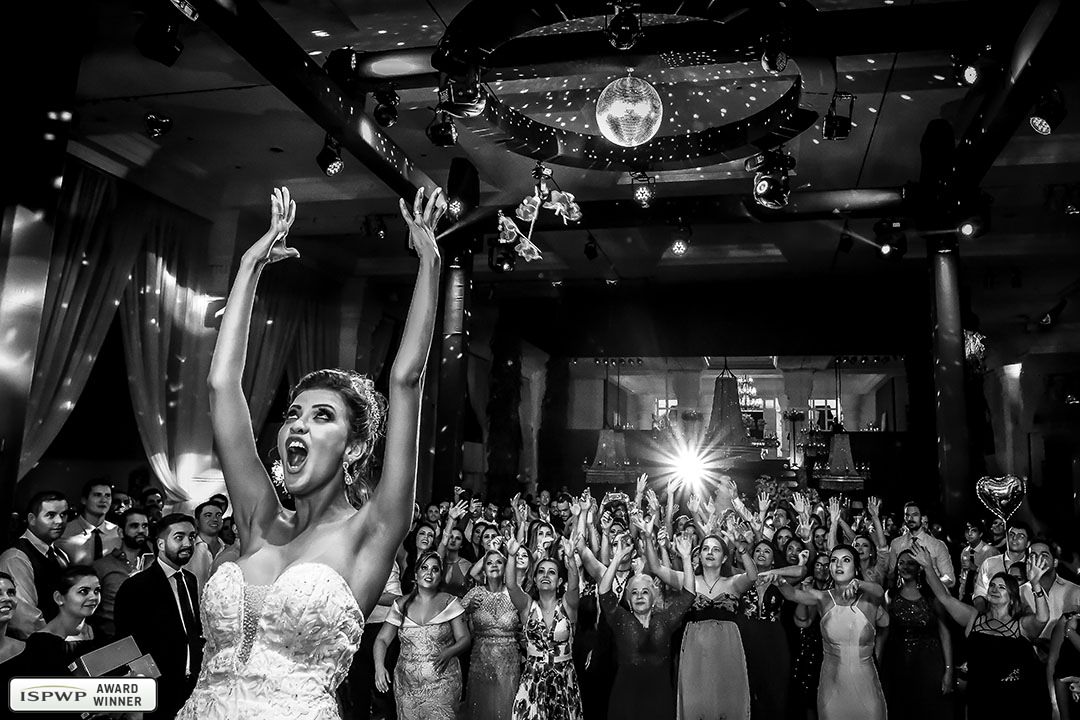 What a real moment perfectly captured. Expression of the bride face...all guest waiting for capture de bouquet! All in one frame!

Junpo Liu | Liuxiaofa | Ningbo, China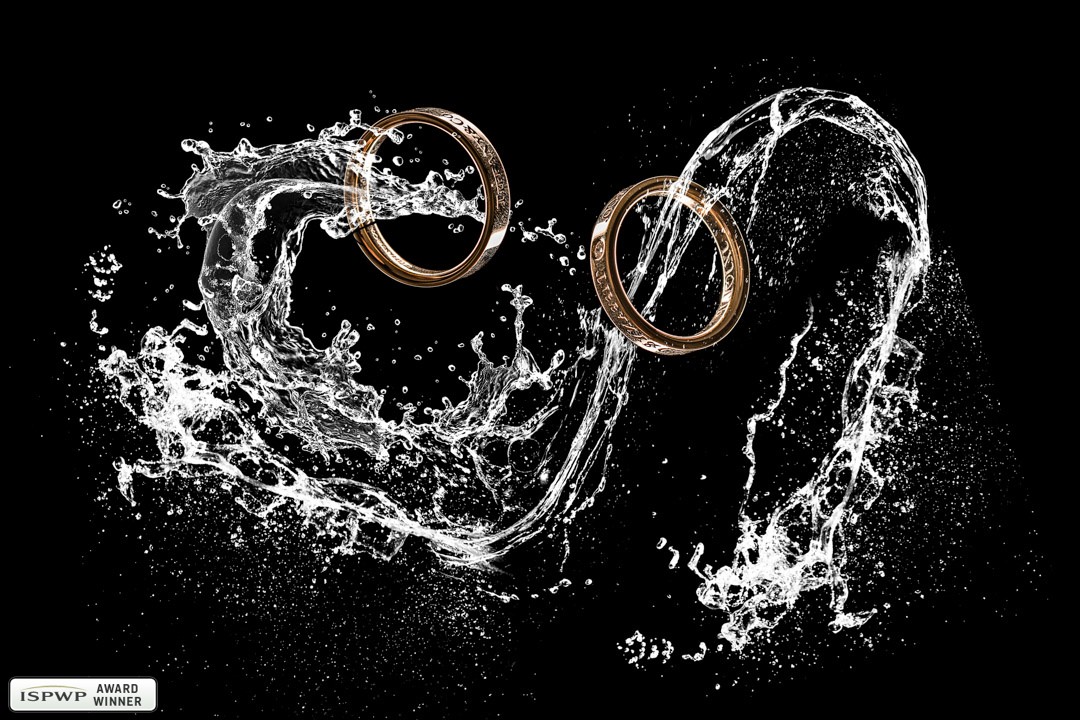 Magic! Piece of art! Well done!

Su Xu | Vinci Wang Photography | Fuzhou, China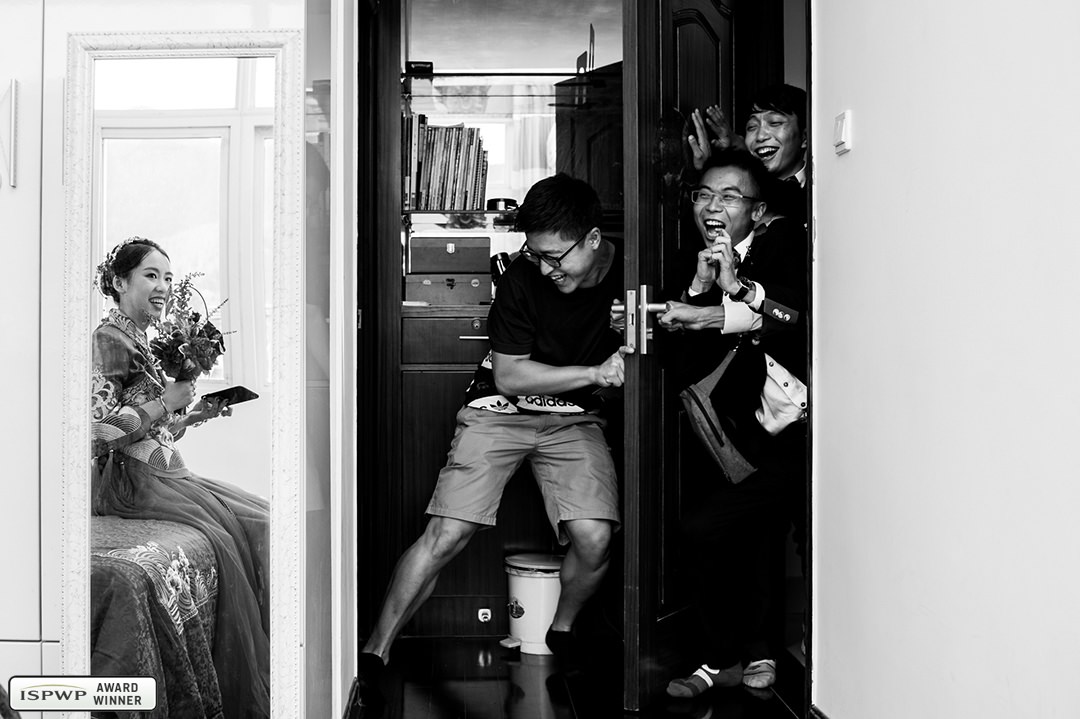 Love this real moment perfectly captured! 2 stories in one frame!

Andre Dharmawan | Cheese N Click Photography | Jakarta, Indonesia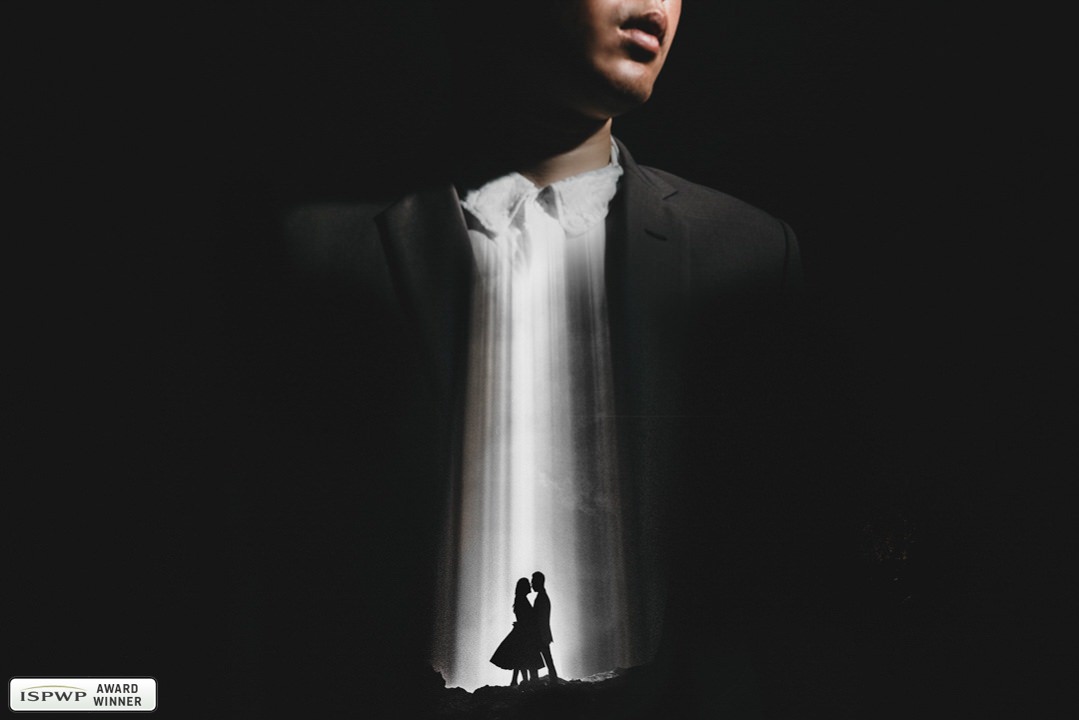 Double exposure! Not easy at all to create! Love the idea of a waterfall with his white shirt...very very creative! Piece of art! Bravo!