Most weddings are beautiful, happy, festive events, filled with love and emotion. There is usually not a lot of risk or danger involved, as the wedding moves from the getting-ready stage to the ceremony and reception in beautiful locations. But every once-in-a-while, the couple has a sense of adventure and wants to show that in their wedding photos. We asked some ISPWP members to share their stories of shooting brave couples doing extreme stunts or shooting in extreme locations.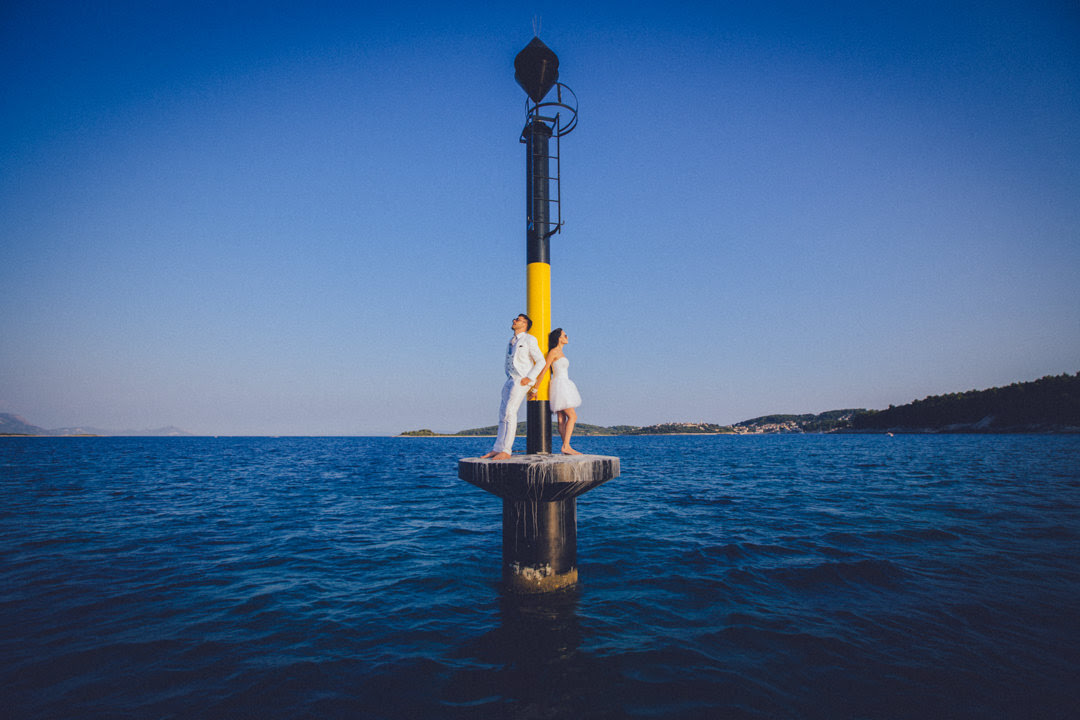 PHOTOGRAPHER: Matija Kljunak, Matija Kljunak Weddings, http://www.matijakljunakweddings.com, Hvar, Croatia wedding photographer
Having both relaxed couples and eager couples in front of your lens has its advantages. If they're relaxed and don't care about photography too much, you can get spontaneous, candid shots that truly and honestly reflect the wedding day. If, on the other hand, they are very eager for good photos, they're usually willing to take a risk or two to get amazing, different shots. In this case, right after the ceremony we went on a speedboat ride for the session, and along the way we saw these two miniature lighthouses in the open sea. The wheels in our collective heads started turning and we soon decided that climbing out of the boat on one of these platforms was worth the risk because the shot would be spectacular. Luckily, both of them were quite capable of climbing out of the boat without falling in!
---
PHOTOGRAPHER: Monique Sady, Photography by Monique, http://tahoeweddingphotojournalism.com, Lake Tahoe, USA wedding photographer
Lara and Kent are avid Squaw Valley skiers who wanted to do a fun trash the dress session at the resort in their wedding attire. Kent likes to huck the cornices, so I put Lara into position, shouted the OK to him, and then he flew right over her head. He even managed to pull off an Iron Cross trick, by crossing his ski tips and grabbing an edge! We spent several hours all over the mountain, with views of Squaw Valley and Lake Tahoe in the background.
---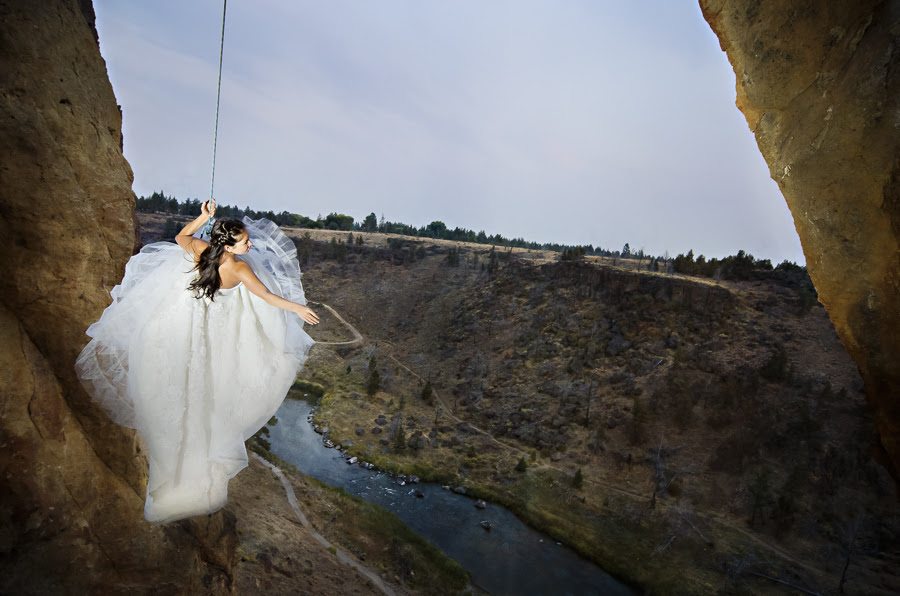 PHOTOGRAPHER: Byron Roe, Byron Roe Photography, http://studio-br.com, Bend, Oregon wedding photographer
Our wedding clients wanted a day after session at Smith Rock State Park which is one of the top places in the US to rock climb, in addition to it being a beautiful area with 400' rock faces. Since I began photographing weddings and being an expert climber for 20 years I envisioned having a bride swing out off of a specific route called "Toxic" which I'd climbed lots of times at Smith Rock. This bride was my best chance at this as she was an ex-gymnast and very adventurous. Even getting to the base of this climb is a bit sketchy for the average person so I didn't know what would happen and half expected them to say....NO WAY! But once we got up to the crag I explained what I wanted to do. She looks at her new husband and says "What do you think?" to which he replied: "Go for it!" With the help of my wife Wendy, I climbed the route to set the top-rope, the bride put her dress on with a climbing harness and climbed up to the point where I could gently swing her out. Done!
---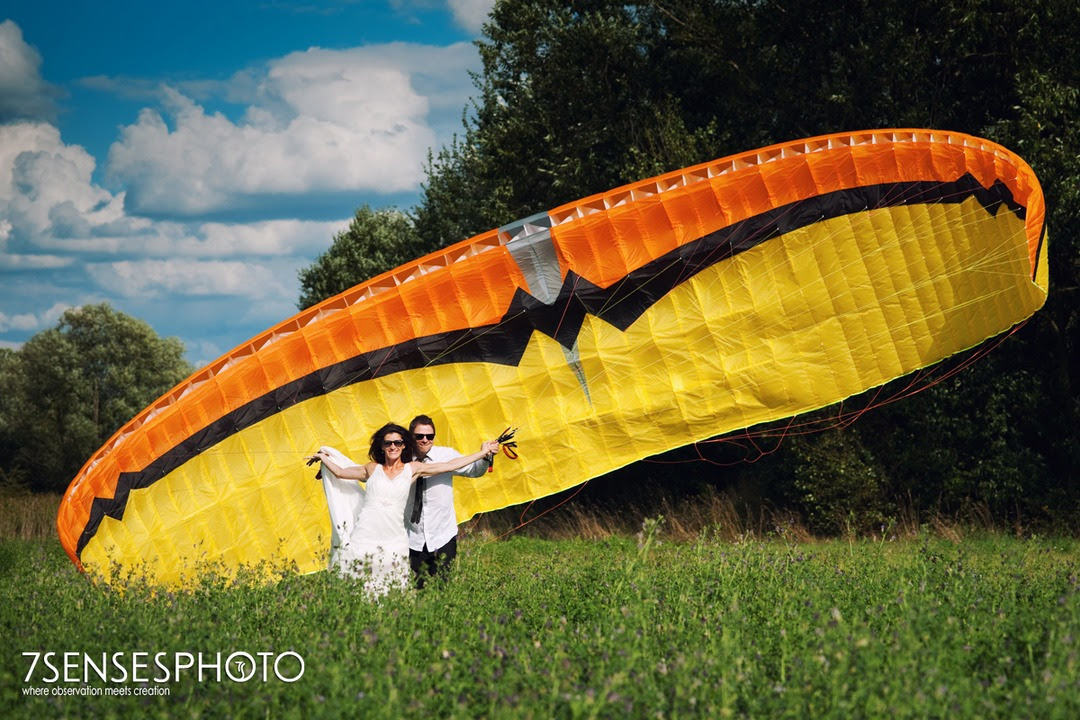 PHOTOGRAPHER: Jolanta Suszko-Adamczewska, 7SENSESPHOTO, http://7sensesphoto.com, Warsaw, Poland wedding photographer
It was an unforgettable session. We all had plenty of fun! Ewelina and Mateusz wanted to have extraordinary wedding photos connected with their hobbies. One of them is paragliding. Mateusz has done it for over ten years. Furthermore, the story of their first meeting is linked with paragliding. One day when Mateusz was gliding through the sky suddenly he noticed two women sunbathing topless. He decided to land close to them. Thus he met Ewelina and... her mother.
---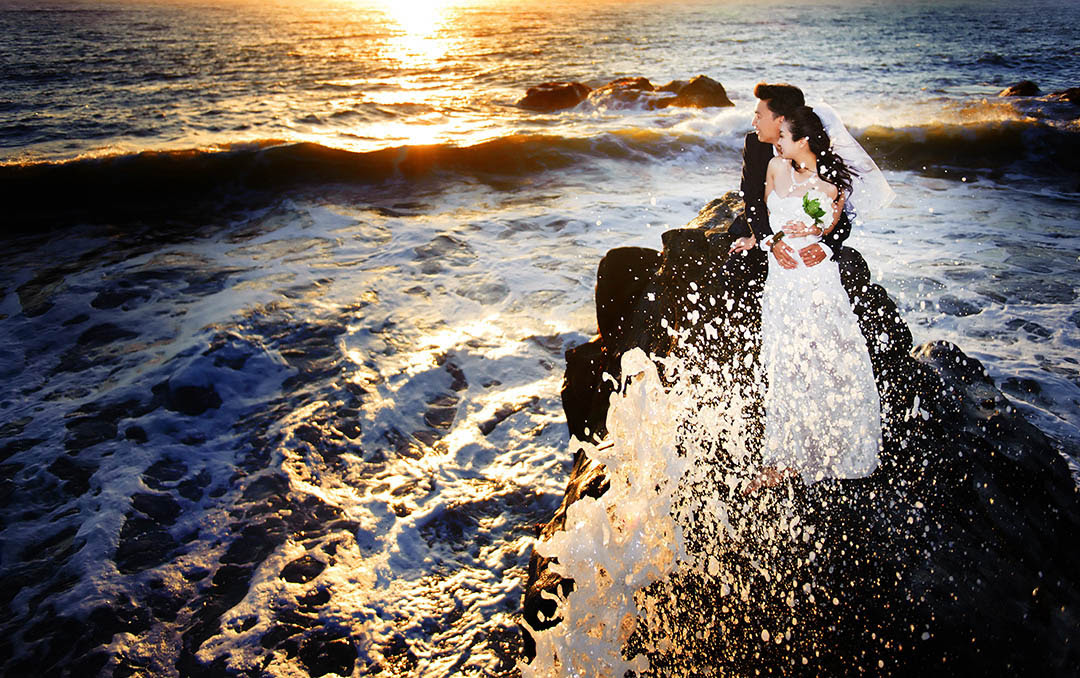 PHOTOGRAPHER: David Zhang, Bayphoto Net Photography, http://www.bayphoto.net, San Francisco, California wedding photographer
It was sunset time at Baker Beach in San Francisco, CA on a Winter day. The water was chilly and the waves were strong at the time of the year. The couple went to a slippery rock for this shot. They held on in the chilly water for the perfect waves coming up. When it was done, they were completely wet. Such a wonderful couple to work with for some unique shots.
---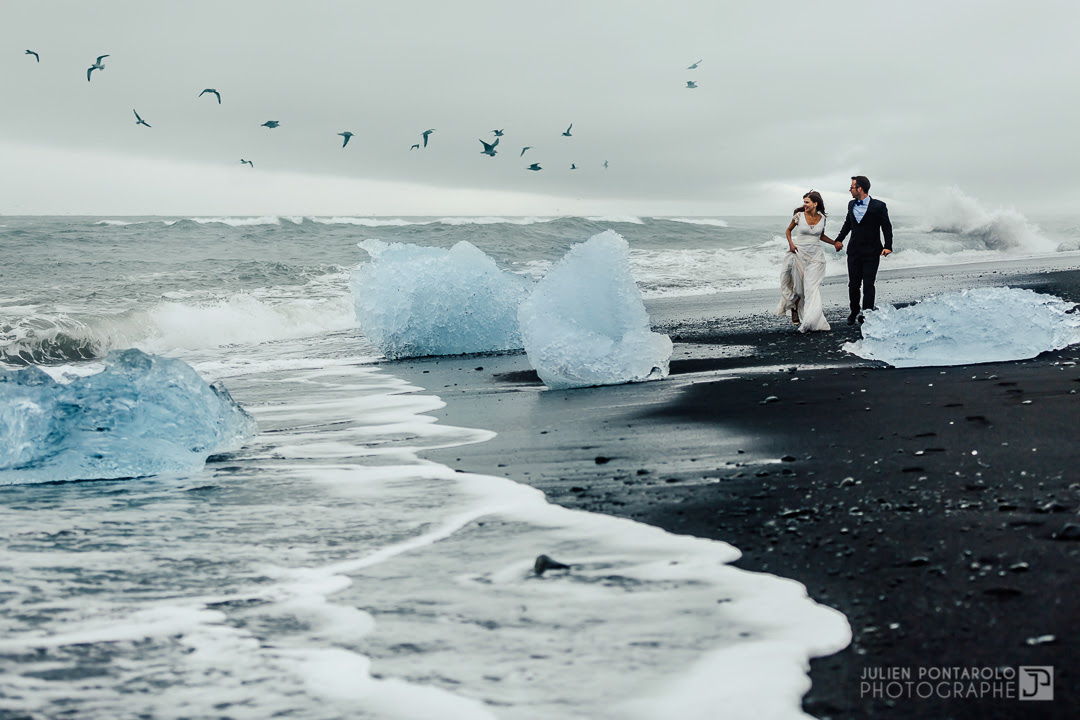 PHOTOGRAPHER: Julien Pontarolo, Studio Julien Pontarolo, http://www.julienpontarolo.com, Strasbourg, France wedding photographer
In this epic post-wedding photo session, I crossed the amazing Iceland with my brave couple. After an all day road trip to explore a lot of different places, we finally decided to push our limits and go to Jökulsárlón, a famous glacier with an "out of this world mood". We only had 20 minutes to stay there, so I just pushed my couple to run and live the moment through the ice blocks and waves on the dark sand. The end of the story is in this photo... Breathtaking place and memories.
Other posts you might like :